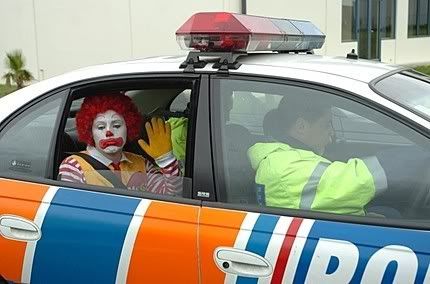 "911 What is your emergency?"
"There are no Chicken McNuggets!!!"
As crazy as that sounds, it actually happened. 27 year old
Latreasa Goodman
of Fort Pierce Florida called 911 three times because the McDonald's she visited was out of Chicken McNuggets.
Apparently last week she ordered and paid for a 10 piece McNugget but was told they were out. The cashier told her all sales were final. What? That's ridiculous. Having worked in restaurants for 25 years I can tell you that NO sale is ever final in the food industry. Yes, restaurants run out of product. It happens to the best of us. I can recall times that I ran out of beef while working at Arby's. (Arby's is a roast beef restaurant in case you haven't left your home in a while.) Running out of beef is NOT a good thing there but it happened and I had the "pleasure" of informing the customers that America's roast beef restaurant didn't have any beef. I did not however tell them too bad you ordered it, all sales are final.
The cashier refused to give Goodman a refund and instead offered her a larger portion of food at the same price of the nuggets. That's when Goodman became irate and called 911. A McDonald's spokesman says she should have been given a refund. I couldn't agree more. Restaurants, especially fast food restaurants, have permission to refund your money regardless of what they may tell you. A lot of independently owned restaurants choose to act like they can't give you a refund because it will interfere with them making GP (Gross Profit) for that month. Having been an assistant manager for many years I was privy to that information and I paid attention.
Goodman has been charged with misuse of 911. I agree that should have happened too. 911 is there for EMERGENCIES not missing chicken nuggets. The police have enough to deal with with real crimes and real emergencies and should not have to stop that work to deal with irate McDonald's customers over missing chicken.
The McDonald's spokesman did say she would receive a gift card for a free meal. I guess that's good. Honestly I think she should just get her chicken nuggets. I don't believe in getting more than what I paid for and I wouldn't want someone giving me something just to shut me up. Of course I would never call 911 over a messed up McDonald's order either.