I don't know how I missed that Andrew Wyeth had died. I usually pay attention to that kind of stuff. I even have a feed on my home page for
Dead or Alive?
and in general at least glance at it every day. But I did miss it. I finally saw it last night on another blog. I've now added that feed to this page since it appears I'm here more than anywhere else.
Andrew Wyeth was an artist. Below are two of his paintings. The first, Christina's World, is probably his most famous. The second, Soaring, is my personal favorite. His favorite subjects were the land and people around him. He passed away on January 16 at the age of 91.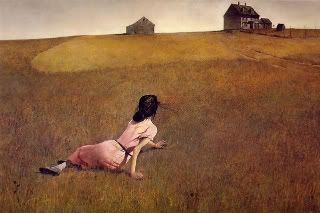 Soaring