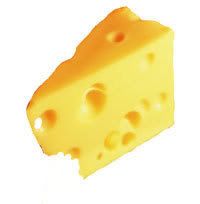 Gourmets know the best cheese comes from France.
Fromage
. Just the word conjures up images of fancy French restaurants, delicious dishes with cheese melted over the top of them, saucy accents and beautiful women. At least it does to me.
One thing I've never associated with cheese though is makeup. Skin care creams. Beauty products. Beautiful women, yes; the way they got that way, never.
A Frenchwoman named
Gilberte Van Erpe
has done what seems like the impossible. She convinced an entire town that her cheese possessed magically qualities and would be used to create luxury shampoo and moisturizers.
She talked residents in the rural town of Cantauco in Chile into giving her almost $400 for each box of the "magic cheese" that were really only worth $4.00. One resident paid 25 million pesos ($40,779.30) for the kits believing there was going to be a high payoff in the end.
Van Erpe was arrested last year in France for a similar pyramid scheme and is now under investigation for the present scheme. French officials are in Chile interviewing victims at this time. In total Van Erpe has scammed over $38 million from trusting people. She faces 10 years in prison if convicted. I don't think that's nearly enough. I hope the French government can help those people get their money back. It's a sad statement about our society in general to me; the good keep trying to trust and the bad keep taking advantage.