on Halloween
, children may only "trick-or-treat" from 6:00 PM to 8:00 PM, and if Halloween falls on a Sunday, they must "trick-or-treat" on October 30 during this same time interval?
Yep, it's true. Read on to see some other
Halloween
&
rest-of-the-year weird laws
I found...
---
For Halloween:
In Dublin, Georgia, it's against the law to wear dark sunglasses or a hood.
In Walnut, California, you have to obtain a permit to wear a mask on Halloween.
It's illegal to dress like a priest on Halloween in Alabama. And in Huntsville Alabama, anybody in an animal control officer uniform is an actual animal control officer.
(Aren't you glad you chose that costume for your 2 year old now?)
Now for the rest of the year:
In New Orleans, parade-goers can't throw bomb bags or rodents
(those rats, they bite.)
In Utah, merchants must keep goose eggs separate from chicken eggs
In Tryon, North Carolina, its illegal to allow your fowl to cackle or crow
(do they have something removed to accomplish this?? I NEED to know!)
In North Carolina, cats that talk for money must pay income tax
(I'm glad my cat hasn't been paid.)
In Columbus, Georgia, a person cannot wear a hat in a theater
In Louisiana, staging sham wrestling events is not allowed
(sorry WWF...)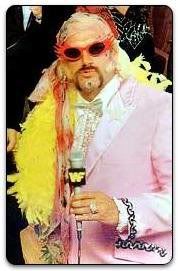 In Grand Forks, North Dakota, it's against the law to break into a dog pound
In Deadwood, South Dakota, it's illegal to mix one drink with another without a permit
(like in your body or in the glass??? Another NEED to know!)
In New Hampshire, a hunter cannot have a ferret in his possession
(because the ferret gives him an advantage over the other hunters...I'm just guessing here. I bet they are super hunters, those ferrets.)