It is the Christmas season so really I was not too surprised to come across
a story
this morning about Santa. Ok, it was about a mall Santa not the real Santa. Well, it was about a mall Santa and an Elf. About a bad Elf. A very bad Elf indeed.
Specifically the Santa was a Southlake Mall in suburban Atlanta Santa and the Elf was 45-year-old William C. Caldwell III who decided Santa might like some dynamite for Christmas.
Caldwell decided he wanted his picture taken with Santa so he donned the Elf costume and stood in line with the kids at the mall. When it was his turn, he told Santa he had a bag full of dynamite. Santa decided he didn't want to take any chances and called security who showed up and detained the bad Elf until police arrived and arrested him. The mall was evacuated but alas, the bad Elf was also (thankfully) a lying Elf because no explosives were found.
I think this picture sums up my thoughts about that bad Elf...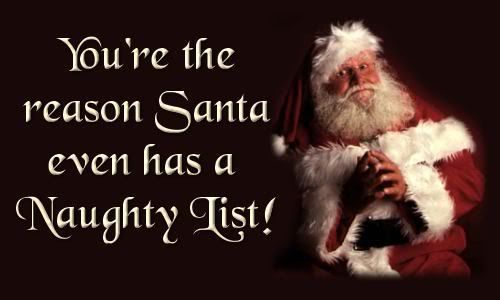 Exactly.