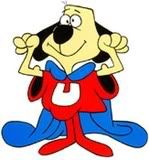 I've heard that dogs can help people through all kinds of things. They are used to cheer up terminally ill patients. They are used to find things. They are used to aid the handicapped. They are even used to ring up sales...
Wait. What?
That's right. A
chocolate lab named Cody
"works" the drive-through window at a Clearwater Florida gas station. His owner originally brought him to his store to keep him company during the early morning hours. The dog was such a hit with customers that he's been "working" the drive-through window for 5 months now. He even wears one of the gas station logo t-shirts and a name tag. When a customer pulls up to the window, Cody pops up on his hind legs to greet them. Now that's something I would like to see! I hope Cody gets to continue his "job" for many years.