I lost my very special friend on the 9th. It's hurting my heart worse than I could have ever imagined. I can't even bear to rewrite what happened. She meant so much to me. If you'd like to read what I wrote, you can
click here
. I will love you forever my Cindie Angel. You are so missed ♥
Because of my personal loss I haven't really been online much. It's been a hard thing for me to deal with and I haven't even kept up with my news. I think that it's making me more depressed though. The lack of writing I mean. It's something that makes me very happy and in some ways, keeps me sane. So today I decided that I needed to get back "in my zone". I did read the news. That helped some.
I heard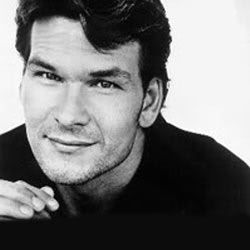 about Patrick Swayze passing away the day it happened but like I said, I wasn't really me...
It wasn't really shocking to me that he died. He'd been sick for awhile and the last time I saw him on TV he looked pretty bad. It's sad the way disease's wear away at you. It breaks my heart. He had
pancreatic cancer
. He
died
on the 14th. He was only 57.